In this edition
Editors update
It is hard to believe that in February, Andy and I were in South Africa proudly sporting our BTS tops at Stellenbosch Park Run. Covid-19 was something that seemed to be happening, but not really having an impact on us, and yet here we are – less than two months later and the whole world is facing varying degrees of lockdown. It has certainly made the triathlon and cycling calendar look very different. I know that for many of our members, their goals for this year have either been canceled or postponed, which can be disappointing and frustrating, but I hope within this issue we can reflect on why there are still so many things to be positive about.
This issue was always supposed to have a focus on volunteers. I am very proud of the fact BTS is run solely by volunteers – all the coaches, committee and ride leaders give their time each week to ensure that we can function and run as a great club. Without the generosity of their time and their commitment to providing sessions, organizing coaching rotas or social events to name just a few things they all do, we quite simply wouldn't exist. They have continued to work hard to keep sessions going remotely – allowing us all to train and stay fit, whilst adhering to government guidance. I will detail at the end of this welcome who the 2020 committee members are – many have kindly agreed to continue, but we were also thrilled to have Olivier Salmon and Richard Leonard join the committee. They will introduce themselves later in the newsletter.
Within the club, we also have many members who are NHS workers. As a club, we give you all a heartfelt THANK YOU. I am sure, given how much noise we can make at Windsor, BTS has been making a lot of noise each Thursday as we show our gratitude for each and every NHS worker. There is a range of different key workers within the club, and the drive, dedication, and risk that you all take to keep the country going during these times is something we will forever be thankful for.
Given there have been no races, there are no race reports for this edition. However, there is still lots for us to catch up on. Simon Ashwell has had a busy few weeks, with the newest BTS arrival – he shares his experiences of BTS, as well as his plans for the future. Andy Hey is also a new member who agreed to share his experiences. Andy joined the club just as lockdown started so most of us have met him online rather than in person! Hopefully, you will get to know both new members a little better by the end of this edition. Club members have also been coming up with some ingenious ways to train whilst following government guidance. I have shared some of my favorite 'pain caves' and creative solutions in this edition.
I hope that we will all get to meet up again soon, but until that time, I am really enjoying seeing lots of you virtually. Stay safe, stay home and thank you again to all our volunteers in the club, our NHS workers, and our key workers.
Karen
2020 committee
Chairperson: Ed Nunn
Club Secretary/Newsletter Editor: Karen Dax
Treasurer: Mike Brennan
Social Secretary: Lynda Hart
Kit Manager: Stephanie Muzzall
Membership Secretary: Martyn Parish
League Organiser: Andrea Taborelli
Men's Captain: Chris Dollimore
Ladies' Captain: Gemma Korff
Coaching Manager: Andy Dax
Website Manager: Olivier Salmon
Welfare: Michael Smyth
General Committee member: Julia Hodkinson and Richard Leonard
New committee members for 2020
Richard Leonard: Committee Member
I did my first triathlon at the 2004 Eton Super Sprints, swimming in a windsurfing wetsuit and on a borrowed bike and despite near-drowning was hooked on the sport. I joined BTS when Eton Tri joined a couple of years ago and have wondered why I didn't join sooner. Last year I benefited hugely from BTS membership both through the training sessions and the club camaraderie when I competed in Ironman Austria with the BTS team. So I thought I would offer to help out in some way and next thing I know I'm on the Committee.
Olivier Salmon: Website Manager
I'm Olivier, I'm French, but I've been living in the UK for the last 17 years. After reaching my peak playing Volleyball at the top of the national league, I've decided to take another challenge and do triathlons. Training alone is possible. Learning from books and magazines too. But you will miss the structure, friendship, motivation, discounts,
club kit and more, which is why I've joined a triathlon club. I've tried a few, and BTS is the right one for me. A friendly club ran as a family rather than a business. Family needs support. Therefore I've recently decided to offer my technical knowledge to the club and take on the webmaster role.
Welcome to new members 2020
We have had several members join us so far in 2020. Please do look out for them at sessions, once lockdown is over, or wave at them at one of the many virtual sessions we are running.
Since January we have welcomed to the BTS family:
Mark Berry
Ruth Evered
Chris Monk
Ryan Teagle
Andy Hey
David Hough (a returning BTS member)
You are all very warmly welcome to the club.
Dave Green has now made the decision to leave BTS. Many of you will know Dave very well; he was fundamental to the merger between Eton and BTS and has dedicated many years to supporting people with their triathlon goals. I am sure that he will not become a stranger, but we wanted to take this opportunity to acknowledge his tremendous contribution to triathlon. You will very much be missed, Dave.
Stories from our members
How joining BTS has helped me through lockdown – Andy Hey
Andy tells us a little about himself, having joined just as lockdown began…..
Tell us a bit about yourself and how you ended up doing triathlon?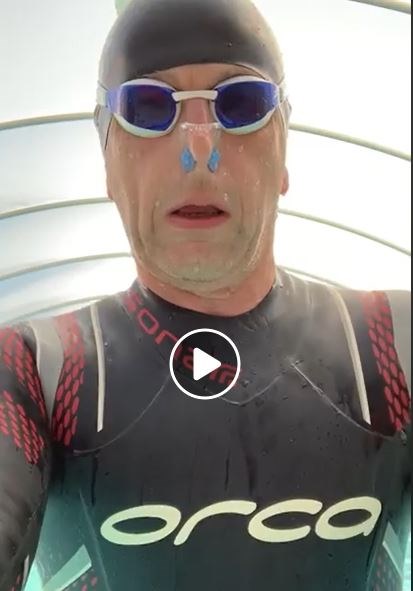 My journey started in 2012 when I did a few charity riding events for the British Heart Foundation ie London to Brighton, London to Oxford and many more. I enjoyed these but wanted something more competitive. A few of my friends had started running so I decided to give it a go, starting slow and attending my local park run. After a few sessions there I was ready for some events and did some 10ks, which then moved into training for half marathons. I completed my first half marathon in Southampton in 2016 and loved it! The support on the course and the finish were all fantastic and I went on to complete more marathons over the next few years.
I have a good friend who had been doing triathlons for a few years now doing several Ironman competitions; specializing in 70.3. A couple of years ago I went to Ironman Staffordshire 70.3 as part of his support crew; I really liked it and all that went with it: the kit, the planning, the bikes, transitions, etc. I knew then that this was something I wanted to get my teeth into. I went on to meet with him a few times to get some swimming techniques. Another friend had found an introduction into triathlon event called Go Tri organized by First Stride events at Hampton Court pool, only small distances (400m swim, 10k bike, 2.5k run) – it was good fun and a taste into doing transitions!
The next challenge was to be open water swimming; last year I spent a lot of the season meeting up with a friend at Bray lake swimming each week going further and further.
In September 2019 I raced at Eton Dorney end of season sprint really enjoyed it and am looking forward to doing longer distances in the future.
Why did you decide to join a Triathlon Club?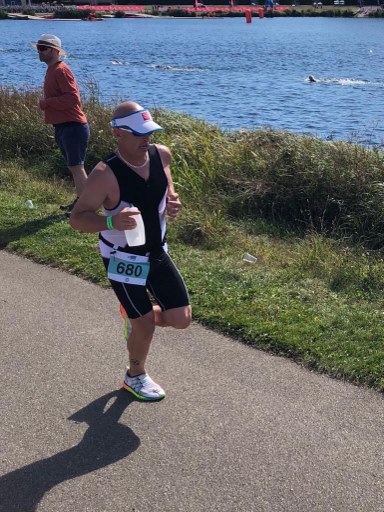 I had noticed when going to events many different clubs meeting up beforehand and supporting each other around the course, which I found very inspiring. While going to Bray Lake I had seen the Berkshire Tri squad sign and got in touch. I wanted to join a club that was local and managed to meet up for a swim session at Ascot just before lockdown. I was met by Andy Dax who made me feel welcome and I enjoyed the session; a great pool and I really look forward to more when we come out of this.
How has BTS helped you during the lockdown?
>BTS has been great during lockdown with a full list of activities online or virtually. There are also many emails with people doing home training and safety advice. I've been doing the yoga on a Tuesday night with Louise Croxson, I've never done it before but I am really enjoying it and feeling the benefits.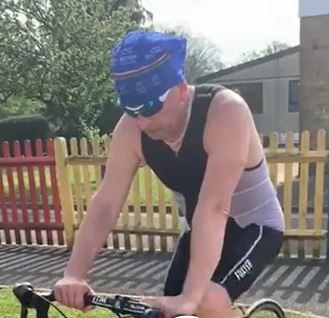 What are your plans post lockdown?
After the lockdown I am looking forward to getting back in the lake at Bray and competing again, I was booked into Eton Sprints, Windsor Olympic Distance and a two-mile swim in the Serpentine, part of the London Classic Series, of
course, these have now all been affected by the lockdown, so I have moved Eton Sprints to end of the season and deferred Windsor until next year. As for the Serpentine, I will wait and see as it's not until September…
Most of all I am looking forward to meeting you guys properly rather than through emails or a screen!
Stay Safe.
Andy
Being a new member and new father! Simon Ashwell
Simon Ashwell has been part of the BTS family for a while now, but he has been very busy. With baby Jamie arriving recently, lockdown changing his Ironman plans, he certainly has had an interesting 2020 so far!
What motivated you to join BTS?
I have a long-held ambition to do an Ironman and decided the best way to motivate myself was to sign up for one (Ultimate Triathlon, Whitchurch) and go from there! I was realistic enough to think I couldn't blag my way around an Ironman though, so needed to find some help. We moved back to Bracknell in August, so BTS seemed an ideal option. The website suggested an active and fun club, which I have certainly found to be the case. Martyn Parish was very patient answering lots of my questions before I joined and I was made very welcome at a Monday night swimming trial session. So I decided to join straight after that first session.
What have you enjoyed most about joining BTS?
Everyone has been very friendly, happy to share their tri experiences with me as I aim to get around my Ironman. I've also liked how the club feels very inclusive of all abilities. I was enjoying the varied group sessions that keep me motivated…..definitely missing them now. And Andy's weekly email keeps all the sessions front of mind which I like.
How has the current situation had an impact on your plans for this year? How are managing your training?
A number of my planned events have either been postponed to later in the year or rolled to 2021. This includes my Ironman being pushed back to 16th Aug (from June). Given my activity level has dropped recently, it's probably not a bad thing! We have just had a son, Jamie, so what with looking after him and the lock-down training has definitely taken a back seat. I appreciate the clubs aim of keeping everyone active through virtual meetups – if and when the nappy / feed cycle relents a little, and if we're still holed up inside, I'll get involved. I'm not normally very good at resting so I'm just treating this current period as an extended rest period. We do get out for a decent walk at the very least, most days, so I'm not completely inactive.
Favourite discipline and why?
Running. So little faff in comparison to cycling. Although maybe that's just me?
The discipline you need to work on?
Swimming. No technique and I wear myself out by going too quickly! Thursday evenings have already helped with both of these issues.
Favourite thing you've done with the club so far?
Lots of highlights already. I found the F3 pacing at Dorney very rewarding. The second time I paced, my group achieved 6 PB's and included an age group winner. The social at Windsor & Eton Brewery in conjunction with Evans Cycles was good fun and informative, plus great beer and food. And we got free goodies! I still haven't cleaned my bike though. And I have to say all the spin sessions are great. Some I only like AFTERWARDS! Karen has a good music selection. And Andy puts a lot of thought and work into his themed versions.
Anything else you want to add/say
Just a massive thank you to the committee for all the hard work they do. Thanks to everyone who has made me feel welcome. And how much I'm looking forward to being back training or competing with you all soon. Take care till then
BTS Pain caves/wattage cottages and lockdown training stories
Michael Lenton contacted us to share his lockdown mishap and the lessons that he learned from it. (He has a great 'pain cave' set up though!)
I've managed to do myself a mischief on a ride with the kids. After riding 200km in the week on the turbo it was the last 10km with the kids that got me.
With my Giant set up on the turbo, I took my commuter out to get the kids some exercise,
However, after having it a year, and not servicing it, the chain was loose. So, when I had a rush of blood to the head and decided to pretend to be Peter Sagan, the chain gave way and sent me skidding across the tarmac.
Fortunately, just a cut to the knee but deep enough to require 5 stitches, so as well as a bruised ego, it also required a completely avoidable trip to the hospital, and more than a week out of action.
So lessons learned:1. Keep your kit in shape – if you can't maintain it yourself, Velolife & Evans are still open as bike workshops
2. If you are prone to the odd rush of blood to the head, try to save it for Zwift…
It is also really good to hear from Beth Booker, who shared this photo of her dad, Alex Menarry, one of our honorary members of BTS. At the age of 87, he is ensuring he is staying fit and healthy during the lockdown by cycling each day for one hour in the South Lakes. He loves exercise and staying fit and healthy is really important to him. It is great to see him still enjoying his passion whilst sticking to the social distancing guidelines.
It is very easy in the current climate to focus on the negatives, but at BTS, we are trying hard to find the positives. One of the many positives that have been evident in
the UK is the generosity of people in these difficult times. Captain Tom has captured the hearts of the nation, and at the time of writing has raised over £25 million pounds – quite simply astounding!
Andy Hey made reference in his interview to a friend who helped get him into triathlon. Today this friend is completing his own challenge to raise money for two excellent charities: NHS Charities Together and The British Red Cross. He is taking on a 70.3 in his own back garden. He will swim in a 3mx2m pool for 40 minutes whilst tethered to the back of his house, sit on his turbo for 3 hours and then run 1700 laps of his pool for the half marathon! His JustGiving page can be found here, so far, he has smashed his £5,000 target.
Kate Robinson spent a grueling amount of time in the saddle supporting The Haemophilia Society on 17th April; she rode 100 miles on her indoor trainer on Zwift! With a £1000 goal, that has also been smashed. You can donate here.
Charities are really struggling at the moment, so the creativity people have come up with to support those in need is truly humbling. Well done to all of those who are raising funds and thank you to everyone for their generous donations. If you have taken part or are planning any fundraising events, we would love to hear about them.
Spring cycling routes from Julia
Many B riders will be familiar with Julia's famous cycling routes, named by her as .ijh files (in Julia's head). She has kindly put together a few Garmin routes which aren't too long to be controversial and should be accessible to most members. The links are below with a short explanation for each one.
From Julia:
All these routes start and finish at Windsor Racecourse, which everyone can find, and I hope generally go close to where most BTS members live so you can join at any point in the route and follow as much as you wish. The distances quoted are to and from Windsor Racecourse. I've kept the distances from 45-65 km so you're not posting ultra-long rides on Strava or overexerting yourself, and as much as possible I've avoided towns and built-up areas where there may be pedestrians. The purpose is maintaining fitness and enjoying our glorious countryside.
Route 1: Bluebell Ride, Windsor, Marlow and Henley, 64km. It's bluebell season and what a wonderful early season we are having. It's well worth a ride out to see and smell these beautiful wildflowers. This is the longest of the 4 rides and in order to see the fabulous display of bluebells opposite Henley Management College, the ride goes along the A4155 Marlow to Henley road. This is a road that I'd normally avoid, as it's usually so busy, but in current conditions, it's not too bad at all. You'll also see lots of bluebells around Cliveden, Warren Row, and Beenhams Heath.
Download file:
Julia-Spring-Route-1.gpx
Route 2: Warfield, Binfield, Twyford, 47km. This is the shortest route and takes in the lanes to the southwest of Windsor. There are lots of wiggly back roads you can add in to extend it, but again, as the main roads are so quiet it's worth getting the benefit of better road surfaces. I've put in a little kink around Warfield Church as that's such a pretty area, and don't forget to admire the views of Bracknell (never thought I'd say that) from the hill on Forest Road towards Binfield. If you want to avoid Twyford completely you can cut off the arm at the top left (northwest) of the route.
Download file:
Julia-Spring-Route-2.gpx
Route 3:Chilterns and Back, 55km. The Chilterns are absolutely beautiful in the spring sunshine and as we've not had much rain for ages the road conditions aren't bad either. This is the shortest route I could come up with that takes in the Chilterns proper – less than 35 miles round trip from Windsor and when you're up on Chisbridge Lane you feel like you're on top of the world! The road surface out to Marlow up Oxford road is a bit sh*tty, but it's easier avoiding the holes when you're ascending than when you're descending. The post office and general store in Hambleden are open for takeaway coffee if you're desperate for a break.
Download file:
Julia-Spring-Route-3.gpx
Route 4: Windsor Park and Egham Hills, 58km. This route takes you south and east around Virginia Water and Egham and maybe a good one for those living towards Ascot and Bracknell. It takes in 3 proper hills – Prune Hill, Tite Hill, and Crimp Hill as well as a few lumps and bumps around Windsor Great Park. The roads are all pretty good, and of course, you could do the hills more than once each, or miss out the Prune Hill loop and stick to Egham / Old Windsor.

Download file:
Julia-Spring-Route-4.gpx
Happy and safe cycling,
Julia x