Liam's Ironman Karten, Austria
BTS yellow was replaced by BTS grey in Klagenfurt Austria as 8 of us successfully finished Ironman Austria 2019 and claimed our finisher T-shirts. All those Drift Road loops, Bray Lake cold swims and Tuesday night and Sunday morning run sessions paid off big time, expertly coordinated by Coach Ed and his Training Peaks TSS science. The rest of July and August have felt so empty and directionless since – bring on the next Ironman!
We set off as a group with varied objectives and backgrounds, from the "just finish" through "how little training can I get away with" to "be the best I can", from first-timers to seasoned Ironman distance racers. The first big milestone was actually starting the training and adjusting your life priorities: Ironman training 1st, everything else 2nd. October 1st was the official start date, by Christmas, we were all on it to varying degrees.
The training volume built gradually but steadily. For most of Spring 2019 my memory is of getting to Friday tired, training most of Saturday, then a long run Sunday, and getting to Monday morning exhausted, only to have to wake at 6 am for the first bike session of the week. But it was huge fun training with a group, learning from each other, encouraging and motivating where needed and sharing training ideas. Are pork pies a valid part of race day nutrition plan? And if so, Tesco's or Asda? Is a run or bike session split into before and after work sessions the same training effect as if you do it all as one? Is 4 hours on a turbo trainer was more or less effective than 4 hours out in the February wind and rain? It's certainly safer and sadly we lost Michael Smyth from our group to a bike crash injury, but not before he set a new PB for doing a High Wycombe Time Trial and Maidenhead Easter 10 on the same day (Glad to see he is back running and biking again now).
Some training days were memorable for all sorts of reasons. The value of doing a long bike ride as multiple loops of Drift Road so no need for route planning, made mentally more manageable by the simple method of reversing direction every loop – thank you Andrea. Half Iron distance tri at Marlow – why travel when great events are on our doorstep? Chasing Chris all the way to Devil's Punch Bowl and back on a 180k ride whilst trying out different food menu options, and who can forget the Killer Brick day, which I took a day off from work to do (2 days before Windsor Tri – won't do that again) and the Pinkneys Green Metric Ironman.
So finally race week arrived and logistics of getting bike, family and a "finely tuned athlete" to Austria took priority overtraining. Some of us opted for the campervan option, which meant we could set up home on a campsite almost within the Ironman Village on the lakeside at Karnten. Everything was in walking distance, apart from the local Lidl which turned out to be 3km away – not a good thing to discover by walking experience 2 days before race day. Some managed a bike route recce, others enjoyed a lake swim and recce'd the swim exit. Or there was always the temptation of Ironman merchandise.
As to the race itself – what can I say – it's the Ironman experience. The swim was called to be wetsuit free in calm, clear lake water of 25 deg: we all set off in waves behind Daniela Ryf who was expected to win, possibly even beating the first man home (she didn't). A bike ride through the Austrian Alps with crowds cheering up the hills, fantastic scenery, long fast descents, thunderstorms and water on the road thrown in ¾ of the way through that nearly caused a race cancellation. I was definitely glad to be on a road bike for the fast downhill sections in a thunderstorm. And finally onto the marathon run – encouraging each other on as we looped back and forth from lake to town, finding out if our nutrition plan had worked, and seeing our supporter teams in the park, high fives, willing us to 'run faster' and other useful words of encouragement. Then, finally walk, run or stagger into the finish funnel – the crowd noise lifts you and the times, the watts, the miles….it doesn't matter anymore..we did it "…You Are An Ironman…".
The team: Chris Dollimore, Ed Nunn, Martyn Parrish, Andrea Taborelli, Gemma Korff, April Edwards, Richard Leonard, Liam Mifsud, Michael Smyth (pulled out due to injury).
Travelling Supporters club: Families Parrish, Korff, Nunn, Edwards, Leonard and Mifsud.
Karen's Ironman Tallinn, Estonia
"I will never do an Ironman." I remember saying these words, and yet somehow, on the 3rd August 2019, I became an Ironman in the beautiful city of Tallinn in Estonia. I genuinely meant it when I said I would never do one as I thought that only super fit triathletes could even begin to think it was achievable, let alone me. I have been competing in triathlon for about 5 years now; starting out as a non-swimmer, slow runner (not that I have improved much there!) and an okay cyclist. Each year I took on a slightly harder challenge; 70.3 is one of the scariest things I thought I would ever sign up for! However, completing that, and then another, started to make me wonder if maybe, just maybe, I could do an Ironman. After getting addicted to triathlon, I had managed to learn how to swim well (and enjoyed it), was a strong cyclist and figured a slow run is still a run!
I had hoped to do one in the summer of 2018, but a new job with more responsibility meant it would have been foolish to try. I had one of my worst race years in 2018 as I wasn't anywhere near as fit as I had been (work meant I repeatedly missed sessions) and yet I still wanted to take on the Ironman challenge. In the summer of 2018, I had a decision to make – do I let work become an excuse for not doing one or do I work out how to make it possible? I decided to just go for it, so Andy and I settled on Ironman Tallinn at the beginning of the school holidays, so we could fit a wedding in at the end too.
Fitting training and a full-time job it was hard. I was still managing a demanding workload at school, was regularly late home and to sessions, and at times felt I was just annoying everyone around me! However, I persevered with the training, which included cycling to work – doesn't sound that hard, but Knowl Hill to Chesham is really quite hilly but ensured I got 46 miles in every time I did it! Being as consistent as possible with my training over the year, attending the club sessions throughout the week and putting in some bigger rides and runs at the weekends was what really helped get me to race day. The lows of training were definitely outdone by some of the unexpected highs I achieved this year. I smashed so many of my previous race times. A real highlight was the Cotswolds 113, where I was hoping to come in around 6 hours and managed 5.39. I started to believe that maybe this Ironman might be okay.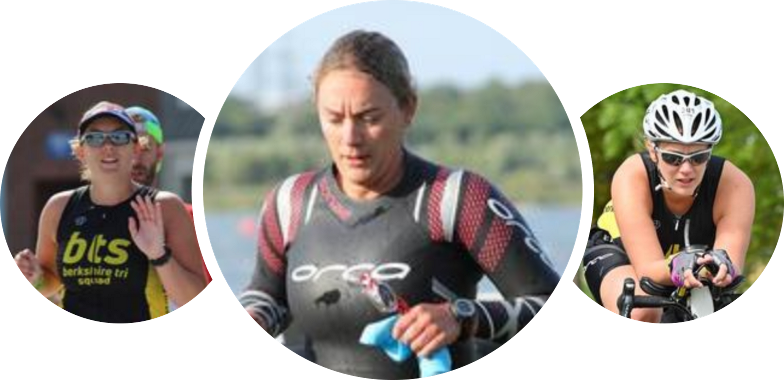 I did also expect to look like a supermodel by race day – I felt I deserved it with all the training, and yet that didn't happen… I did, however, feel really fit and healthy. Now whilst I joked quite a bit about this, it actually haunted me a bit as race day approached. Walking around Tallinn, I was eagerly looking for everyone who had a green wristband on. Every time I saw one I thought 'they look so fast' or 'they look so much fitter than me'. This came to haunt me at the swim start…Before we got to the swim start we had a short period of time where we were looking at a cancelled swim. The water temperature was plummeting, at one point as low as 10 degrees, so I was sat in our apartment googling 'Ironman races in October' as I couldn't quite believe after the year of training I may not become an Ironman. Thankfully, the superb organisers of Ironman Tallinn managed to make a decision early enough to move the swim to a lake – I was back in the game! Now back to panicking about completing the whole thing…
A puncture on the way to racking almost sent me over the edge again, but thankfully Andy's calm dealing with it (whilst I tried not to sit on the road and cry) meant I didn't completely meltdown before race day! Race day was finally here and I was nervous, but also excited – I really wanted to get to the finish line. I seeded myself at the start of the 1.30 swim group and then we slowly moved forward towards the start line. Remember that 'supermodel' joke… well what I then did was look at everyone around me and decide that they were 'quicker' than me, so gradually moved back, to the point where there were only about 20 of us left. Oops. Better go! I sprinted down to the water's edge and immediately thought 'oh I have messed this up!' – the last few getting in the water were starting with breaststroke! I decided to move out to the side and just go for it. It was amazing! I absolutely loved the swim. I was even more thrilled when I got out the water, looked at my time and saw that I had done it much quicker than I hoped – 1.13.52.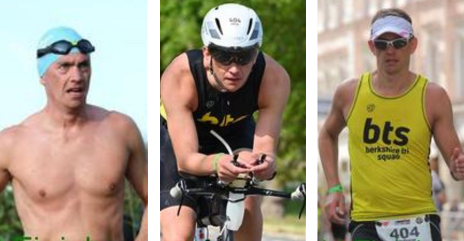 Onto the bike, which was very windy but beautiful. Due to the loops, I saw Andy twice which was great and I managed to complete it in 6.04.22 – I was so happy. Taking this excitement (and disbelief) I confidently bounced out into the run. That lasted half a mile, when my body decided it had, had enough for a while. I decided to walk to the first feed station, take on nutrition and then just stick to the plan of slowly plodding it out. On my second lap, I saw Andy who was struggling. We had a chat, and then he got going again; seeing him on the last lap was great as I knew how much this race meant to him following his collapse on the run in Maastricht. Our parents were on the run course cheering the whole way (my dad continued to say 'it is just too long, why doesn't she just go down the finish line now' repeatedly to my poor mum who had to explain why several times!). The run was hard, but I had always thought it would take me about 5 hours – so I was pleased to come in at 5.14.51. I managed to stick to a pace for the duration once I had got over my initial blip. The town was fantastic and coming down that finish line hearing 'Karen, you are an Ironman' was simply one of the most amazing moments EVER. I still don't think I can quite believe it. I set out with 14 hours in my mind; when I asked what I had done it in and they said 12.45.12 I was in absolute shock and wanted to check that they had got it right! They had and I was beaming – what a feeling!
For me, their slogan of 'Anything is Possible' is so very true. I never, ever thought I would complete an Ironman, and I definitely never thought (even on race day!) that I would complete it in the time I did. I hope that if anyone else out there is lacking in confidence to take on their challenge – whether that is a 5k run, sprint triathlon or an Ironman, this story may help you to have the confidence to try. It didn't come easy – I definitely trained hard, but the rewards and sense of achievement were worth every moment. I didn't do it alone either – the BTS sessions were invaluable – use the club for support – the BTS training sessions, and words of advice and encouragement, as well as the sheer support behind us on race day, show why being part of a club is so special (especially one as good as BTS!). I was also really lucky that I got to complete the adventure with Andy (who finished in 11.42.03), which also made it really special… Now I'm married to him!
More Ironman Tips and Tricks from Chris Dollimore coming later this week.