In this edition
Happy New Year BTS! What a year 2019 was for so many club members; from completing sprint or olympic distances for the first time, long-distance cycles being smashed, to several conquering Ironman goals across the world. It has been a real pleasure to read the different reports I received last year, to find out what you have all been up to. Please do keep them coming in. Lynda has put together a list of training camps that are on offer this year – please do contact the relevant people if you are thinking of taking part in one. Andy and I have visited Tenerife each Easter for the last few years, and it is always a highlight of the year for me; beautiful sunshine to cycle in, warm(-ish!) seas and a coastal path to run along. Combine the hard work in the day with seafood and white rioja in the evening, and we have a perfect holiday/training camp!
In this edition, we will hear from Richard File and his excellent success at the ETU Long- course championships; he truly is an inspirational BTS member. Steve Waterman shares his highlights of BTS as a new member to the club. Do remember that ALL members are able to bring a friend along to a session, if they would like to try it out and see if it is for them. With new year goals, it could be that you know of someone who would benefit from being in our club; we would love to welcome them so bring them along! As Steve noted, his 'tri before you buy' experience worked really well for him, so it could work for those others, who are not quite sure what to expect too…
I have also reflected on the Bullbuster duathlon; it wasn't quite as any of us hoped – as it was cancelled mid-way through, but this goes with the sport; you can never predict what the weather is going to do!
We also enjoyed our awards dinner in November. Whilst not quite so glamorous, the club AGM will be held on Sunday 9th February at the Palmer Arms. Further details about meal choices. costs and the agenda will be sent out very shortly, but please do keep this date in your diary.
Finally, the new year is a good time to reflect on the many benefits that the club has to offer, particularly as we look for new members to join us. As full members, you benefit from coached swim sessions, heavily subsidised swim sessions in selected lakes, participation in Saturday rides, and Wednesday spin sessions, yoga on a Tuesday, skill-coached run sessions, kit voucher, selected subsidised races and social events. Standard members are able to participate in the Saturday rides, spinning on a Wednesday, Tuesday run club, pay- as-you-go yoga, selected subsidised events and races. We are really proud of what we offer at BTS and always look to see more people joining in. Please do share with friends and family what we do, as there may be a BTS member waiting out there for us. If you have any questions about membership, please do contact Martyn.
I hope to see some of you as we kick off again, trying to burn off the Christmas excess and look to our new year goals. Happy New Year again, and happy training. Karen
Best newcomer award winner, Steve Waterman has shared with us his reasons for joining BTS, his new year goals and a few other pearls of wisdom…
What made you decide to join BTS?
There's a variety of reasons why I joined BTS. After a couple of seasons doing my own thing, having been relatively new to triathlon, I felt like I'd reached a point where I needed some structure to help me improve, to learn from others, and if I'm honest, fuel a bit of my competitive spirit! I saw BTS in action at Windsor Tri, and watched how supportive (and vocal!) they were with each other. I knew then that it would be a good thing for me and something I wanted to pursue. I did some research and met a few people at Bray Lake before I joined, and opted for the 'tri before you buy' approach. I liked that there was a broad range of people with differing abilities (we've got beginners, improvers, GB Age Grouper's, you name it…), has its own spin studio, and offers closed pool sessions – I was losing the plot with lane rage at my local pool; we've all been there! There's also the money side. I swim at Bray Lake at least 30 times a year, so having each swim subsidised meant that membership would almost pay for itself, aside of all the other benefits. Result….
What's been the best part about joining the club?
Everyone has made me feel so welcome, it's a truly inclusive club. There's a great range of coach led sessions each week which makes it easier to fit it in around family and work commitments, and no one puts you under any pressure. So far, I've managed to make it work and can definitely see the sessions paying off. I like the structured and diverse training, which has been tailored to me and uploaded to my own Training Peaks app. At some point, we've all been culprits of poor training which has lead to injury or sub optimal performance. BTS has definitely given me a quality over quantity approach, which means I keep everything in check and dare I say it enjoyable (well, as much as you can enjoy repeatedly running up a hill, or flat out on an FTP test). I've learnt loads in the 6 months since I joined; sessions to determine my FTP and CSS, run clinics led by experienced coaches, and advice on kit (there's a gadget geek in all of us!). There's also a great social side which definitely makes everything a lot more fun and balances out the hard sessions. The highlight event without doubt is Captains challenge which this year was led by Gemma and Chris; a frenzied morning of activity, competing as four-person relay teams against a number of other local Tri clubs. Loads of banter, too much cake, what a blast.
Which sessions do you attend?
There's a couple of sessions that I try to do each week; Tuesday run club and Thursday swim club. Both are really great sessions and I really enjoy catching up with everyone and pushing myself a bit. I try to do the occasional bike ride on a Saturday morning but weekends aren't easy given family commitments, so I join the ride outs when I can. During race season there's always a few more things going on, I try to cram in as much as I can. There's always impromptu meet-ups at Bray Lake which are fun, and on a good day Stephanie brings cake, what's not to love.
Favourite discipline?
I've come from a running background so will always have a close affection with that, plus it's probably the easiest to fit in when you're busy. However, I'm definitely enjoying the swimming. There's something about swimming in a lake early morning or early evening that can't be beaten. I've worked hard on my swimming this year and its definitely an area where I've seen improvement, and hopefully that will continue next season! So yep, I never thought I'd say this but swimming is my favourite discipline.
Areas to work on in 2020?
My primary goal next year is to really think about my approach to training, focused on consistency by sticking to the plan set by the coaches.
I've set myself two main goals for next year; increase my FTP which is something I've already started working on as part of my winter training plan, and to improve my swim form (and along the way hopefully learn what all the pool kit I've purchased is for!). I also want to do more of the dreaded brick sessions and get used to the jelly legs off the bike.
Advice to anyone thinking of joining?
I was really apprehensive when I joined as you never know whether joining a club is going to work out for you. Honestly, BTS has been amazing for me and I've learnt so much from so many people in the 6 months since I joined. You just need to embrace it, set some goals of what you want to get out of it, and always be willing and open to learn. Speak to Martyn or anyone at the club and come to one of our sessions to try it out. It worked for me and is a good way to get a feel for the club.
Richard File shares his amazing experience at the ETU European Championships, which took place on the 14th September 2019. He completed the full iron-distance of 3.8/180/42 km and won gold – well done Richard!
Richard File was in Almere, Netherlands, for the ETU European Champs on 14 September, raced over the full iron-distance of 3.8/180/42 km.The GBR Team Manager was the ever- cheerful Dawn Hunter, and all the athletes were nervous about the often-windy bike course, and I was personally nervous about getting hypothermia on the swim, having DNF'd here two years ago. So this time it was a thermal wetsuit with two stretchy layers underneath, and my head covered in a neoprene thermal hat, almost a cowl. Race day was near perfect apart from the sunburn risk, which rarely affects me, already sun-tanned and a tough old skin. I got a few bumps on the 2-lap swim, partly being lapped by the elites and quick age group swimmers. The bike course was also 2 laps, pancake flat and only a couple of stretches with a slight headwind, so crouched in the aero position for almost 70 per cent of the time. The run also flat tarmac, 6 laps round the lake, and I walked the aid stations and eventually some more, running out of calories, stomach a bit dodgy. My splits were 1.29, 5.56 and 5.09 plus a very slow T1 trying to get my act together, but well pleased with 12 hours 53 mins and an ETU Gold as the only man in my category. I had 3 pee-calls of nature, once down my leg on the bike (squirted water at the affected area at the next feed station), again in T2 and again on the run, so not dehydrated beyond normal. Next year the World Long Distance Champs are over the same course in Almere. I really ought to be going to defend my ITU title (won in Spain in May) but probably won't, 4th year in age group, a big ask for someone in their 70's. I'm still having flashbacks after the interminable bike course.
On Saturday 2nd November, several members of BTS braved the bracing wind and driving rain, as they took on the Ballbuster competition. Andrea had been working all of us hard, as he made us run up and down THAT HILL several (hundred, or so it felt) times before race day. We were all feeling pretty confident, if nervous, as we all knew we had put the time into the training. For those of you who aren't familiar with the Ballbuster, it consists of an 8 mile run, 24 mile cycle, 8 mile run – or rather, 5 times up Box Hill! As race day drew closer, so did the remnants of Hurricane Pablo. The forecast was suggesting very strong gusts of wind and heavy rain. We made our way to registration, wondering if it would even go ahead. The girls were thrilled as it is the only race where the queue for the ladies loos were significantly shorter than the that of the men! We racked our bikes, sorted out our transition space, and I started to wonder if any of my 'spare kit' would actually remain dry by the time I had done lap one of the run. After listening to the briefing in the freezing cold, we loaded up our supporter Andy (sadly, he wasn't competing, having come off his bike and broken his scapula just a few weeks prior…) and set off. I initially found it quite challenging as everyone seemed to be so fast! However, once I got into my stride, I settled into it. I had one aim – no matter what speed, I was going to run all the way up Box Hill, without stopping or walking. About halfway through the first lap, the rain started… and got heavier, and heavier. By the time I was starting the climb up Box Hill, it was torrential! The wind had picked up (exactly as the forecast had predicted!) and I was beginning to panic about getting onto the bike – would I stay upright?!I made it to the top of Box Hill, having run the whole way, but absolutely soaked to the core. As I got to the top of the hill, Andy shouted at me that they had shortened the bike to just one loop – okay, I can do that, I thought. As I came along the top to transition, I couldn't even run in a straight line; perhaps even one loop would be impossible in this wind. As I was contemplating whether or not to just DNF, an official then said that they were calling it; conditions were just too dangerous. Coming into transition, I could see why – there were bikes and kit everywhere! Andy was there, scooping everyone up as they came in (most members were out on their bike loop), and the vast majority of us bundled into Steve's van to warm up!Despite the disappointment of not being able to see the race through, the team spirit, fun of training and delicious meal afterwards still made it a great BTS event. Huge thanks to Andrea and Chris for the specific run club focus on training for Ballbuster, which undoubtedly made us all stronger and ready for the race, regardless of how the end result turned out.
A few hardy (foolish) members took part in the F3 December 'Icicle' duathlon and half marathon, as pacers. A very chilly morning at Dorney Lake but some solid performances in the duathlon. Well done to those who took part and especially Andrea who then went to join the pacing team for the half marathon!
If you are interested in pacing at the upcoming F3 Dorney events, then please look out for details and contact Andrea. Pacers are required at all levels, you don't need to be a racing snake! It is often those who are slower who need the most support to get them to the end.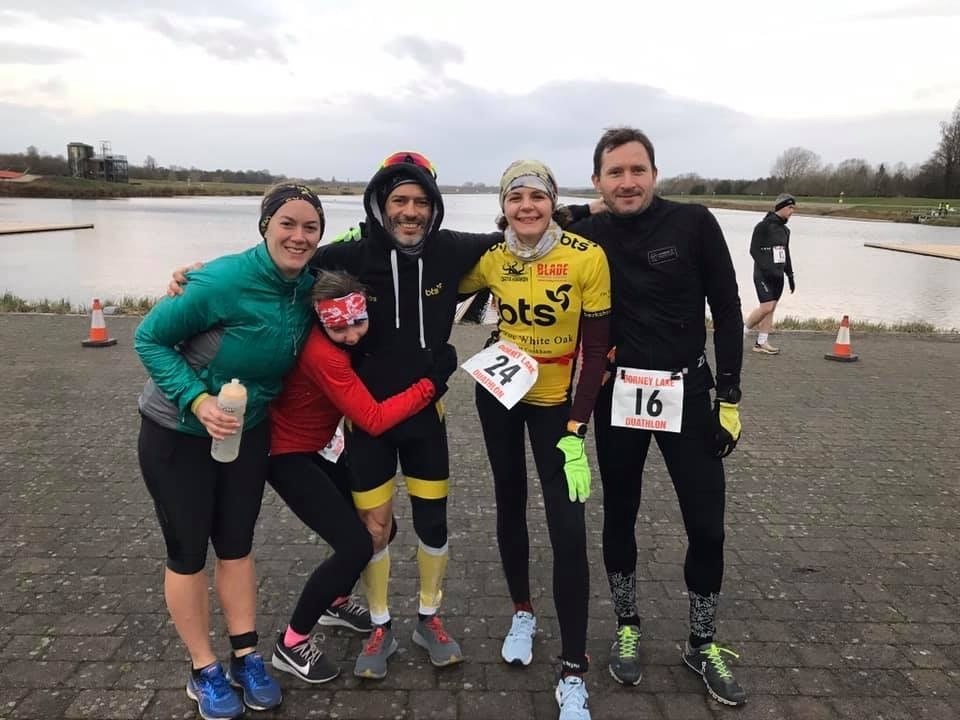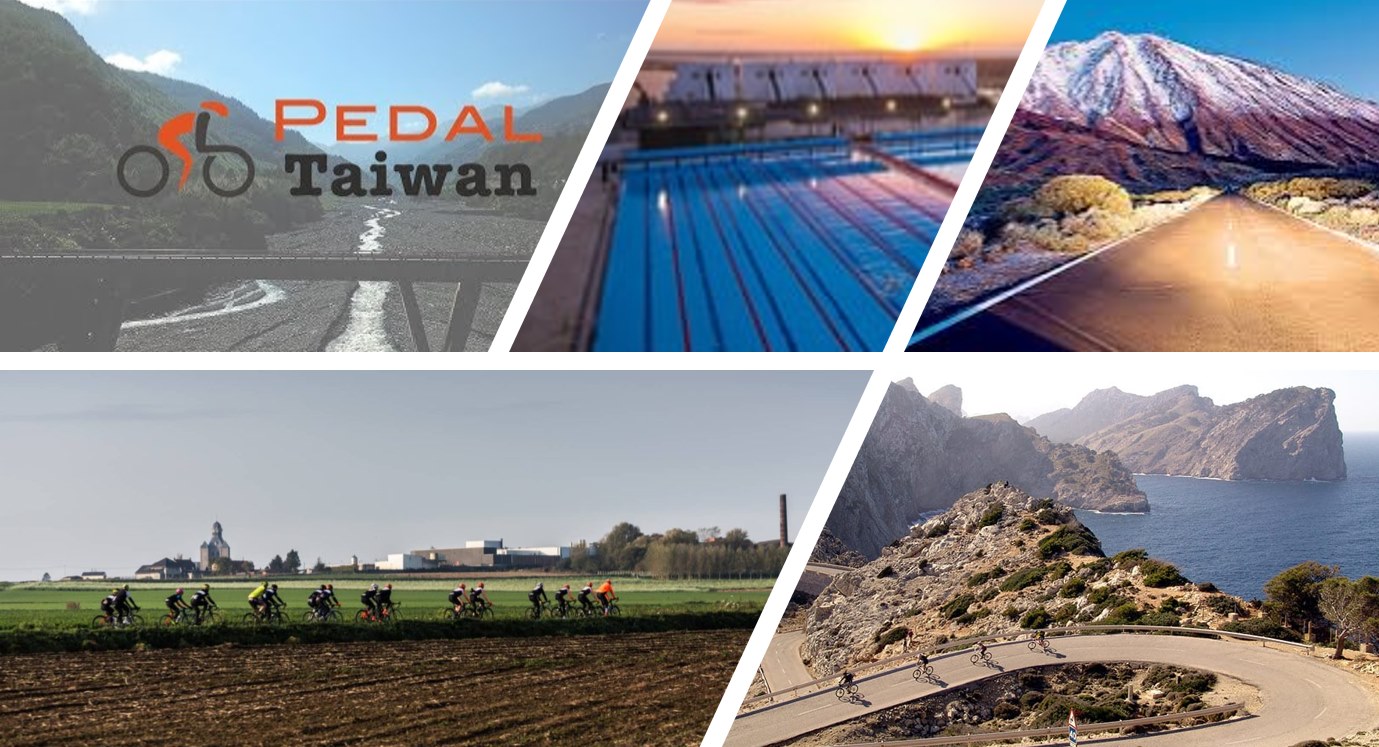 Looking for a 2020 training camp or something different with a few other friendly BTS faces? Check out a few training camps and rides where your fellow members will be heading to train, holiday or just spectate.
Training Camps
Our resident speedster Lesley Kernaghan is attending a Ladies only Tri camp at Club La Santa, Lanzarote with Beth, Michelle and Sue at the end of Jan 2020. It's a great camp for all abilities run by Tanja Slater. For more information contact Lesley.
Gope Walker is organising a UK based cycling/tri camp in late April. Probably Cornwall or South Wales. Contact Gope for more information to get on the list with details to follow.
Stephanie Muzzall and Louise Croxson are headed to Mallorca for a training camp the week of April 11th – 18th. If you are interested in those dates, please drop them a line for more information on their camp.
For those of you interested in creating your own tri camp – speak to Paul Fitzpatrick or Andy Dax on what to look for and where to go. Paul and Kate have headed to Lanzarote in previous years so can recommend hotels, pools, cycle routes, etc with Andy and Karen doing the same in Tenerife.
Cycling only
Gent Wevelgam sportive 28th March – organised by John Booker. It will be a long weekend where they ride sportive on Sat and watch the pros on Sunday. More information here: https://cyclinginflanders.cc/event/gent-wevelgem-cyclo
Hotel Dory 18th April to 25th April – Hotel Dory is the spiritual warm weather home of BTS cycling training camps. Located in Riccione, Italy, this cycling hotel caters to cyclists with guided rides and a fantastic buffet. More information here – organised by John Booker:
https://www.hoteldory.it/en/bike/riccione-bike-hotel-sezione.htm
and pics from previous trips here (I went a lot. Love. It)
http://lyndainlondon.blogspot.com/2009/03/cycling-in-italy-part-1.html
http://lyndainlondon.blogspot.com/2009/03/cycling-in-italy-part-2.html
http://lyndainlondon.blogspot.com/2010/03/spring-break.html
http://lyndainlondon.blogspot.com/2011/04/spring-break-cycling-coffee-and-gelato.html
http://lyndainlondon.blogspot.com/2011/04/spring-break-barbeque-beers-and-some.html
Pedal Taiwan is organising a special cycling trip to Japan from 12-26th July. Most of the cycling will be on Hokkaido, the northern island which is most famous for its beautiful scenery, quiet roads and superb cycling routes. The weather should be perfect for summer cycling. At the end of the trip we'll travel south to Mt Fuji on the main island to watch the Olympic road races on 25th (men's) and 26th (women's). Full details of the trip with prices will be available early in January. Anyone interested let Julia know julia@hodkinson.com and she'll keep you up to date.
Know of any other camps or events? Feel free to circulate and have some friends joins in.
Something unusual happens in November… members of BTS remove their lycra and make an appearance in dressed up gear! Yes, November saw our annual awards dinner, brilliantly organised by Lynda Hart. One of the best parts about our awards dinner, is the money that is also raised for charity. A whopping £2,855 was raised through raffles, games and auction prizes. We are very proud as a club to support a charity, with Arctic One being our chosen one for this year. The nominations for the various awards had taken place, and revealed on this evening. A full list of the prize winners can be found at the end.It was an excellent night off; with lots of food and drinks being consumed, before some fierce competition taking place at the casino tables.It was lovely to see everyone who attended, especially the husbands and wives of those who put up with us triathletes for the year!